TMS is a not for profit
501 (c) (3) organization.

.
---
UPCOMING EVENT!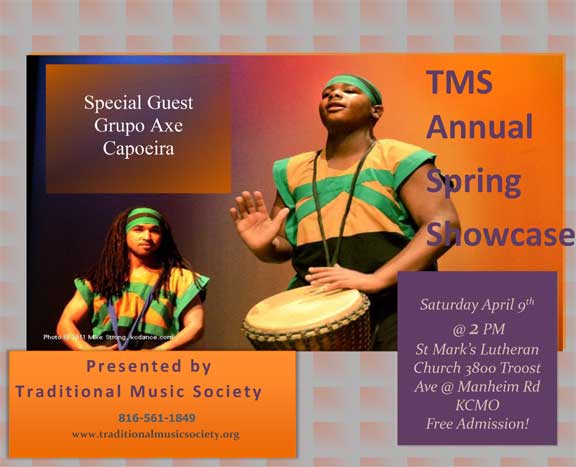 TMS Winter and Spring Classes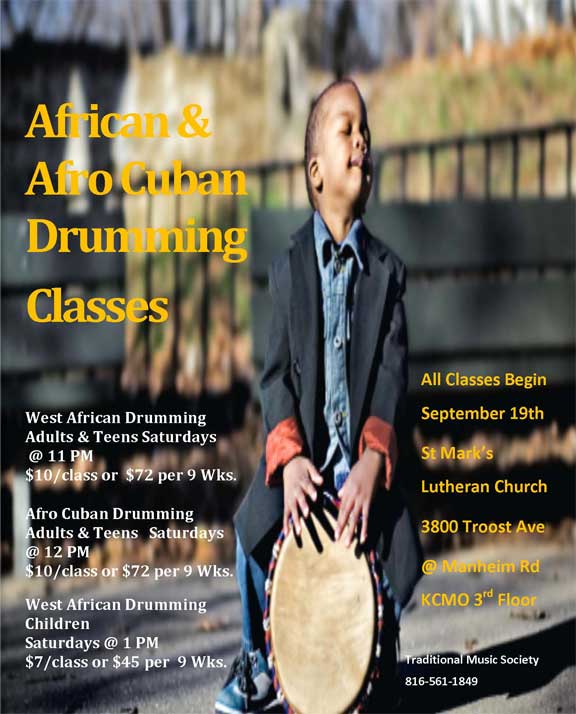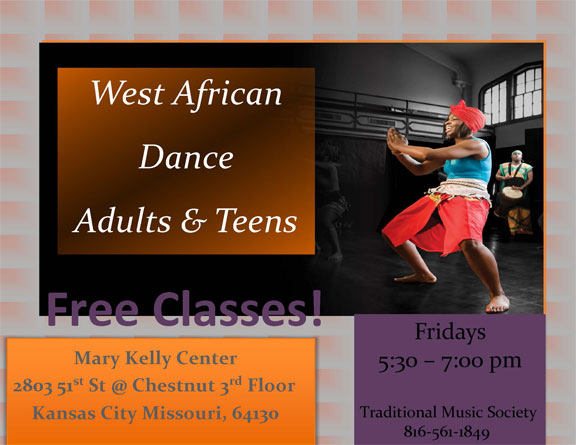 ---
CALL NOW FOR PRE-REGISTRATION! 818-561-1849
*FOR INFORMATION ABOUT OUR CHILDREN'S CLASSES PLEASE CALL 816-561-1849
---
TMS Awarded 2011 Lighton Prize
by Kansas City Young Audiences
The Kansas City Young Artists presented their Lighton Prize for Teaching Artist Excellence to TMS during April's First Friday at the Crossroads. The Prize is for teaching artists who provide programs to student with high artistic quality and with a strong connection to the school curriculum.
Our Mission
The Traditional Music Society is an arts organization dedicated to the promotion of educational excellence and community cohesiveness through the study of indigenous music and dance from around the world (West Africa, South America, Central America, and the Caribbean).
Exposure to these highly captivating art forms helps students to develop valuable tools for learning and communication. Through music and dance, students gain a sense of group dynamics, thereby developing critical thinking, concentration, and interpersonal skills.
---
Our Method
Through music, we help students to develop fine motor skills by teaching the different hand positions for playing certain percussive instruments and how various tones are derived. Students are taught rhythmic patterns and how they are assembled to create polyrhythm, which in turn cultivates good listening skills. Students also learn the interrelationship of all the instruments and how they are dependent on each other to create the ensemble sound.
In dance we teach posture, body awareness, balance, and coordination. We show the basis for rhythmic dance in relationship to the music. The concept of imagery and how it reflects sociological customs provides students with a true sense of self-expression.
---
.
Instructors
West African, Caribbean, & Brazilian Music
Bird Fleming
Afro-Cuban Music
Patrick A. Conway
Middle Eastern Drumming
Allaudeen Ottinger
West African Dance
Terri Brown
Programs
Lectures & Demonstrations
Music & Dance Seminars
Scholarship Program
Educational Resource Center
Career Development
Team & Staff Development
Consulting
Classes & Workshops
Elementary, Middle & High Schools
Colleges & Universities
Health & Fitness Facilities
Community Centers